Bars, Restaurants
&

Beer Garden

Bavaria is widely accepted as one of the homes of beer in the world. Schusterhausl can also claim it's small piece of "beer heritage" as we were the first bar in the world to be able to offer famous Bavarian 'weissbier' to its guests from the tap.

So keeping true to this tradition and legacy, Schusterhausl is the first and only hostel in the world who serves fresh beer out of wooden barrels to our guests. Not only that but visitors also get the chance to tap open the barrel with the wooden mallet just like the Mayor of Munich does to open Oktoberfest!
---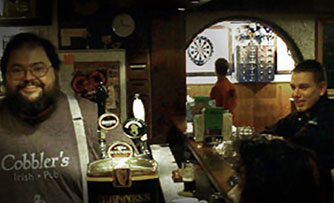 Cobblers Irish Bar
In 1998 a group of friends who had a love of all things Irish decided to open an Irish bar in the cellar of Schusterhausl – Cobblers was born with the name deriving itself from Schusterhausl or The Shoemakers House.
Cobblers is open from October until June
(winter) on Wednesday, Thursday, Friday
and Saturday nights from 7pm until late. www.cobblers.de
---
The Ballroom
The ballroom serves as both our lounge for hostel guests and a place for young people of the region to come and enjoy the fun. We have 2 huge screens and play movies every night as well as loads of live sport including Football, Rugby Union and American Football.
The ballroom also doubles as an entertainment venue and you will often find us playing host to various live bands and djs including our regular Saturday Moonshine Club with DJ:Racone.
We welcome any live bands or DJ's who would like to play at Schusterhausl. Please send us an email
---
Schusterhausl Biergarden
Open from April until October our biergarden has seating for over 1100 guests. We serve traditional Bavarian biergarden food as well as great Bavarian beer. As a special treat we also have our our own Steckerlfish grill stand which is world famous in Bavaria! You may even get an opportinity to sit at our "stammtisch" which is a meeting table for people who want to socialise. Owner: Frank Danisch
---